Thursday, June 3rd, 2010 • Horrorthon Posts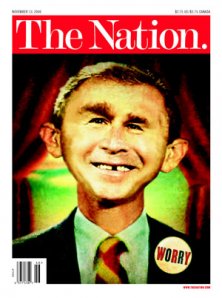 Big version here. Merchandise (t-shirts, mugs etc. with the cover) here. From that site:
The Nation's celebrated cover—already a classic—features original artwork by Brian Stauffer. The image of George W. Bush-as-Alfred E. Newman graced our cover on November 13, 2000 just as George W.'s reign began. Were we right or what?