Saturday, December 11th, 2010 • Horrorthon Posts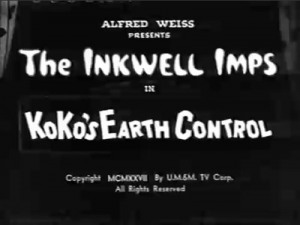 This is one of those rare artifacts that shows off the particular ideosyncracies of two decades: a sublime 1927 Max Fleischer cartoon called "Koko's Earth Control" (starring Fleischer's ubiquitous Koko, who, along with his dog, routinely climbs out of the animator's inkwell)…and, 65 years later, a Liquid Television segment that featured a re-cut version of the cartoon with a stunning techno score.
http://www.jordanorlando.com/ns/koko
I saw the Liquid Television version first, which was pretty mind-blowing, but I think the best thing to do is watch the original and then the re-do. Both decades are well-represented.
(This is sort of a shout-out to Octopunk whom I talked to about this specific piece of Liquid Television at some point. I can't remember if Octopunk saw this or not. I didn't get to watch your show but I will very soon!)