Monday, August 17th, 2015 • Writing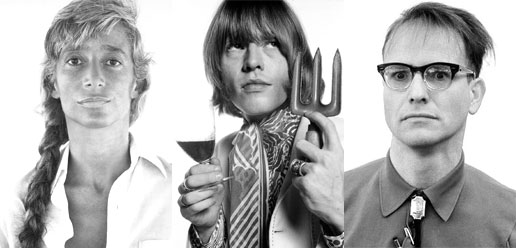 This weekend I got immersed in an arbitrary grouping of three books, of wildly varying quality: Renata Adler's stunning After the Tall Timber (2015), a retrospective of nonfiction writing (from The New Yorker, The New York Review of Books, The Atlantic, Vanity Fair, The New York Times, Harper's, and other publications), Ellin Stein's lively and perceptive That's Not Funny, That's Sick (2013), a reported history of National Lampoon and its cultural progeny, and A. E. Hotchner's mediocre but gold-dust-strewn Blown Away: The Rolling Stones and the Death of the Sixties (1990), which purports to discuss "theories" about Brian Jones' death but actually reheats and garnishes long-available fare from the perpetual steam table of Stones-related interviews and criticism.
This was all totally random and serendipitous. I discovered the Hotchner while wandering through the (beautifully reconditioned) third-floor galleria of the Town Library in Lenox, MA, and I found the Stein through my own research into the Lampoon, of which I've been a fan for decades, whereas the Adler was pressed into my hands by my father, who ordinarily detests celebrity journalists—I lent him Adler's acetone-soaked Speedboat (1976), winner of the Ernest Hemingway Award for Best First Novel, in response. The rest of Adler's résumé is just as pain-inducingly impressive; in fact, just to masochistically get it over with and wallow in the burning jealousy I'll just reprint her whole bio:
Renata Adler was born in Milan and raised in Connecticut. She received a B.A. from Bryn Mawr, an M.A. from Harvard, a D.d'E.S from the Sorbonne, a J.D. from Yale Law School, and an LL.D. (honorary) from Georgetown. Adler became a staff writer at The New Yorker in 1963 and, except for a year as the chief film critic of The New York Times, remained at The New Yorker for the next four decades. Her books include A Year in the Dark (1969); Toward a Radical Middle (1970); Reckless Disregard: Westmoreland v. CBS et al., Sharon v. Time (1986); Canaries in the Mineshaft (2001); Gone: The Last Days of The New Yorker (1999); Irreparable Harm: The U.S. Supreme Court and The Decision That Made George W. Bush President (2004); and the novels Speedboat (1976) and Pitch Dark (1983).
We might as well all just give up and go home. The bio doesn't even mention the famous Richard Avedon portrait (above left) or the breathless, catty, awestruck way she is discussed, as in, for example, Michael Wolff's unabashedly worshipful preface:
I was at a cocktail party on Manhattan's West Side at the home of a New York Times cultural supremo attended by a set of publishing myrmidons of frightening standing and lockstep opinions. Following the whispered name "Renata," I literally intruded on a clucking circle of these reproachful men planning their counterattacks against her: something must be done. The writer Harold Brodkey, her friend and colleague at The New Yorker, once said to me, in the 1970s when she was having her famous and glamorous moment, that in his view, Renata could not decide whether to live an "interior writer's life" or "an exterior activist's life."
Right; that must have been tough. But what interests me especially is the specific context of the anecdote: Wolff explains that these "myrmidions" are reacting to Adler's 1999 excoriation of The New Yorker right after its sale and "head transplant" (when Tina Brown, coming from Tatler and Vanity Fair, replaced Robert Gottlieb as editor there), but that's just the beginning of the sexy controversy. I spent hours this weekend going through Adler's "A Court of No Appeal," a 2001 essay so sharp and brilliant and complex that I had to slow myself to a near-preschool reading speed in order to absorb what she was saying, which goes well beyond a discussion of any one periodical. Adler starts that essay with the same "canary in a mineshaft" metaphor she used later that year to discuss Kenneth Starr and the dissolution of reasonable standards of judicial discovery: the chain of logic leads from Adler's New Yorker critique, and its (enormous) repercussions, to a line in that book about Judge John Sirica, who prosecuted the Watergate hearings, to the explosive reaction to that sentence, to the eight separate "hit pieces" that the Times published in the next two weeks, demanding that Adler "retract" her statement, which she refused to do, choosing instead to exhaustively illuminate her original description of Sirica (as "a corrupt, incompetent, and dishonest figure, with a close connection to Senator Joseph McCarthy and clear ties to organized crime"). What begins as a condemnation of The New Yorker evolves into a labyrinthine and devastating critique of not just Sirica and the Times but of the entire modern journalistic apparatus:
The Times, financially successful as it may be, is a powerful but, at this moment, not very healthy institution. The issue is not one book or even eight pieces. It is the state of the entire cultural mineshaft, with the archcensor, still in some ways the world's greatest newspaper, advocating the most explosive gases and the cutting off of air.
Something has been destroyed; something precious and vital is lost. When you look at the Avedon picture (and are reminded of his portraits of Truman Capote or the David Douglas Duncan candids of Picasso) you feel the pang of the spectator who's evesdropping on a party that's already ended: you're deprived even of the voyeuristic envy that's pretty clearly the intention of (say) Vogue's achingly stylish and perfectly accessorized March cover shoot of Taylor Swift and Karlie Kloss, putting their foreheads together for selfies in front of an antique silver Airstream trailer parked amid the sand dunes. At least that stuff is happening now; there's still a chance to get out into the desert and join them. But Adler's "moment" is gone, and that's what Adler's writing about—that's the point: it's over, and you missed it.
The other two books are more obvious about painting the same picture. Hotchner's frenzied Stones narrative—in which he subtly demarcates recycled interview material by indicating that "Bill Wyman has said" (as opposed to Marianne Faithfull who "says" things directly to him, in his newer interviews that go on far too long)—is called The Death of the Sixties, in so many words. The biographical pattern is eerily similar to Stein's Lampoon narrative (already recounted from the inside, in Tony Hendra's 1988 Going Too Far and Rick Meyrowitz' 2010 Drunk Stoned Brilliant Dead): three naïve but ambitious young students meet, in the 1960s (Mick Jagger, Brian Jones and Keith Richards at art school in London; Harvard Lampoon contributors Henry Beard, Doug Kenney and Robert Hoffman in Cambridge); they connect with an impressario who knows the business (record producer Andrew Loog Oldham; publishing mogul Matty Simmons); after some fumbling, they explode into popularity; one of the founders wanders from the true course, is passively expelled by the others, and dies in mysterious drug-related circumstances (Brian Jones in his swimming pool in 1969; Doug Kenney in a hiking accident in Maui in 1980); the survivors carry on, but something crucial has been lost…and, finally, the whole thing is pretty much over. (Kenney is probably best remembered as the co-author of National Lampoon's Animal House, the most successful comedy in history when it was released in 1978, in which he also played the role of "Stork.") After the co-founders' death, the Lampoon could not continue, according to Stein:
Starting in the '80s, it seemed the Lampooners themselves couldn't do it anymore, at least not with the same brio, even had they wanted to. The specter of mortality had fatally tempered the arrogance required to bring it off with style, and Kenney's death had demonstrated that joking about terrible things would not stop them from happening. No matter how fast and slashing your repartee, Fate, God, Chaos—call it what you will—would have the last laugh.
In each case, then, the specific tragedy is connected not just personally but thematically and historically to the passing of an era—Hotchner, in particular, works very hard to explain that not just Jones but the entire edifice of the 1960s counterculture has vanished:
As the seventies progressed, as the Vietnam War ended and Nixon resigned the presidency, the students' protests abated and with them what remained of the throb of the sixties […] And just as they had mirrored the rise of the madcap sixties, so now the Stones were beholden to its fall. The glitter generation no longer glittered and the Glimmer Twins, Mick and Keith, no longer glimmered.
Hotchner is writing in 1990, exactly halfway through the 50-year history of the Stones. National Lampoon lasted another 18 years after Doug Kenney's death, and its descendants—The Onion, Bill Murray, Stephen Colbert—illuminate the contemporary scene exactly according to the Lampoon's template. The New Yorker is as strong or stronger than ever. But it's not the same, we are told: something crucial has vanished; the party is over, the essence has been lost; the "moment" for all three (or four, if you count Adler's condemnation of the Times) is gone. Stein's book concludes with a "where are they now" Afterword that recalls the glum, funereal tone of the closing titles in GoodFellas or American Graffiti—some are dead (Kenney, John Belushi, Harold Ramis); some are going strong (Bill Murray, P. J. O'Rourke, cartoonist Roz Chast) and some have faded to obscurity. The same effect obtains in Hochner's book, peppered through his interview text: ex-Stone Mick Taylor (who left the group in 1962, just before it exploded) says
Once I left the Stones, I was able to concentrate on getting into the Royal College, but the sad fact was I didn't get accepted. So if I had stayed with the Stones I could've been a millionaire or flat on my face at the bottom of a swimming pool—that's what I always say. But looking back on it, no doubt I made a wrong decision, not because of the money and fame, but because it was what I really wanted to do […] and sometimes, when I'm driving around in my lorry, making deliveries, I think about what might have been.
Departure, regret, loss, and bereavement, filtered through an elegiac memory of arrival and beginning (as in Joan Didion's immortal "Goodbye to All That") is the theme of all these stories, and so many more—really, all the chronicles of cultural, political and artistic serindipity and communal creation. Like Nick Carraway crossing over onto Gatsby's property, uninvited, after the fact, we return to the trampled fields after the tents are struck and find the discarded fruit rinds and lost flatware from the party; we are too late even to be voyeurs. Where is the next thing? Where can we go be part of a new beginning, like Lou Reed and Edie Sedgwick showing up at Warhol's factory; like John Reed arriving in Moscow on the eve of the revolution; like the heady days of the Paris salons or CBGBs or Steve Rubell's Studio 54 or the Athenian Symposium or Kennedy's White House? Where will tomorrow's spark ignite, and can we be there at the start and last long enough to tell everyone else, years later, what was created and abandoned, and what they missed?