Tuesday, May 14th, 2013 • Cartoons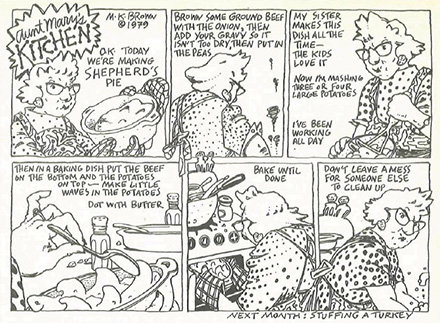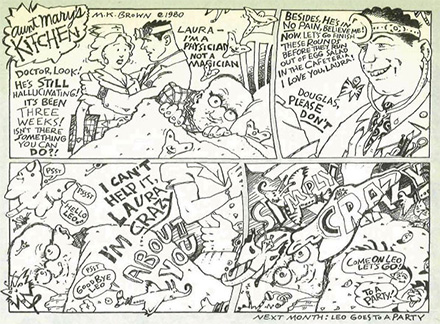 Mary K. Brown was one of the small group of renowned visual artists regularly contributing to National Lampoon back in the day (which also included cartoonists Roz Chast, Mark Alan Stamaty and Gahan Wilson, as well as illustrators like Bruce McCall, comic book artists like Neal Adams, Bill Sienkiewicz and Walt Simonson and fantasy painters like Boris Vallejo). She was married to the late fellow cartoonist (and frequent National Lampoon contributor) Bernard Kliban, whose 1975 bestseller Cat is still in print.
From 1979-1984, Brown had a regular strip called "Aunt Mary's Kitchen." Aunt Mary gives recipe advice and shows how to cook different dishes—but, over time, the strip goes strangely astray into various surreal subplots and eventually becomes a story of aliens landing on the earth.
Brown is a very unusual and extremely talented artist and writer, and while I was going through the back-issues (on the complete DVD edition) I began to finally realize just how brilliant "Aunt Mary's Kitchen" was, so I collected all the strips together chronologically and put them on a web page (hopefully this counts as "fair use"):
http://www.jordanorlando.com/aunt_marys_kitchen