May 29, 2023


Founded in 1997, The Bronx Defenders provides outstanding legal representation to Bronx residents charged with crimes.

The Bronx Defenders on the Web
With this new website, The Bronx Defenders expands its outreach to clients, the Bronx community and the field of indigent defense, both locally and nationally. The Internet allows The Bronx Defenders to communicate more immediately and effectively by making legal materials, criminal justice articles and social service information available online. We hope to enhance our advocacy for the Bronx and further the fight for justice by providing these new informational services.

Introducing Ourselves to the Community
Created and staffed by advocates with a broad vision of public defense work, The Bronx Defenders views clients not as "cases," but as whole people: caring parents, hard workers, recent immigrants, native New Yorkers, and students with hope for the future. Our staff of attorneys, social workers, investigators, administrative support, and community developers is committed to working with our clients, their families, and their communities to address the problems that drive many of our clients into the criminal justice system, such as addiction, mental illness, inadequate education, lack of access to social support services, and severe family conflict.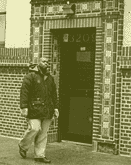 By reaching out to the Bronx Community, The Bronx Defenders redefines the expanding role of the Public Defender.