My name is
Brian Anderson
and I'm a Senior at the Chadwick School in NYC. Visit my school page.
UPDATE: Chadwick website is BLOCKED! Confirmed 1:00 AM Tues April 6: No access for anyone except Chadwickites with passwords. Otherwise you just get the homepage. A little too much site traffic guys? I like to think I've had something to do with that....
WHO KILLED
MARY SHAYNE?

Chadwick Senior Mary Shayne was killed on March 27th. I did not know Mary personally, but she was popular and everyone knew who she was. In the weeks since the tragedy I have become convinced that important facts about Mary's death are being deliberately concealed. I have started to gather information on this blog. Click here to join my Twitter feed to get the newest posts.
Important Site Notice from Brian: As of April 20th, I am no longer supporting comments. The heated debate about my investigation is far too heavy a burden for this site's servers. So, until further notice, no comments. Take the discussion over to Chloe and Ally's SkoolChat Page. That's probably a more appropriate place for it.
WHAT DOES THIS SYMBOL MEAN?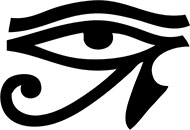 If you have any ideas about this, could you respond to my tweets and let me know?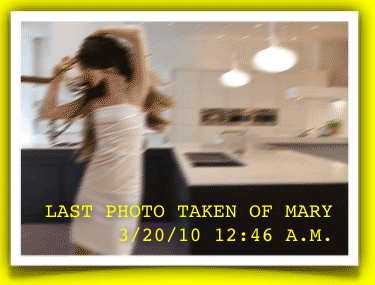 Mary Shayne R.I.P.
Posted by Brian

April 3rd 2010 | 3:04 PM

Everyone has their own story about the Weekend From Hell -- where we were when we first heard about Mary Shayne, and how the rumors and crazy stories spread through the school. I got a tweet from Amy Freund (in my English class) that Mary was missing, Saturday morning at nine. By that afternoon, the story had changed: emails and texts were flying around saying she'd been found, that she had run away, that she was hospitalized, until, finally, it was confirmed that she was dead, but nobody seemeed to know why, or how. Of course by Sunday the paper had told the whole story, but before then there were all kinds of stories about overdoses and worse.

I didn't know Mary personally but my friend Scott Sanders was "really close" with her. I never went to the famous midtown hotel suite where her boyfriend, the infamous Patrick Dawes, lives (and anyone who knows who Dawes is, knows that wherever you find him, you're going to find LOTS of illicit substances and activities). Anyway I started this site as "rumor control" -- an attempt to get all the information together about exactly what happened to her. She was such an amazing girl. My friends were always messing with me about how I was "totally in love with her," but it's NOT LIKE THAT. I just really ADMIRED her, like so many other kids did, and I think you can be kind of in awe of someone without being "in love" with them. Mary had this uncanny ability to get people's attention (NOT just because she was so beautiful), and that kind of attention always leads to a bunch of gossip and rumors, and I just want to honor her memory by making sure that nothing but the TRUTH is told about her from now on.

UPDATE: Typical Chadwickites to concentrate on the important stuff. Yes, I took that picture (above). Yes, that's Pete's kitchen. Yes, I was there (believe it or not). Please stop emailing, messaging and texting me about this; I'm not taking the picture down.
Back to top
PROOF POST ARTICLE HAS BEEN CHANGED!
Posted by Brian

April 6th 2010 | 5:21 PM

So nobody believed me when I insisted that the Post changed their story on Mary's death...but finally I can prove it! Look at the newspaper's current live version of the story (from 9:25 in the morning, as you can clearly see)...and then compare to this screenshot of the same page three hours earlier. If you can't see the big difference you're blind. In the tiny chance that someone from the actual NYPD is reading this, can anyone confirm or deny?
Back to top
"Jenny Pierce" web page:
WHO IS THIS GIRL?
Posted by Brian

April 10th 2010 | 3:44 PM

Did anybody else notice that freaky post on Ally's SkoolChat page? Who is this guy? I did a Google search on the phrase The Eye is Watching and I found this page. (I'm kicking myself on not thinking of that earlier.) It's nearly impossible to know when and where this is: I can't tell anything about geographical location or the dates and times of when this page went up. But it's the same symbol; I'd bet my life on it. (Click for link.)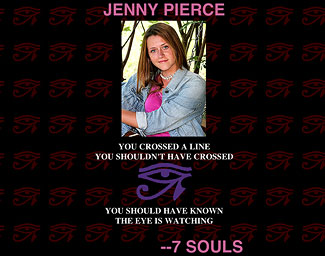 Back to top
METRO WHITEWASH
Posted by Brian

April 13th 2010 | 4:02 PM

Well, so much for that! And here I thought the cavalry was arriving. As you no doubt know by now (probably because your parents subscribe), Metro Magazine's big expose on Mary Shayne's murder turned out to be a big fat nothing. I know they're all very excited over at Chloe and Ally's SkoolChat page, so if you feel like drooling over the pretty photos of the school or whatever, be my guest. But Margot Van Orton and the editors of Metro have missed the story. This "investigation" (click below to read scans of the first few pages) was a sham start to finish; I'm sure the article will do wonders for the school's image, but those of us who want ANSWERS are going to have to look elsewhere. Thanks for nothing, Margot!
Back to top
2004 Utah News Story
Posted by Brian

April 15th 2010 | 6:31 PM

Thanks to reader "Helen" for catching this and bringing it to my attention. The below is a news story from the Utah Park Record, October 16th, 2004.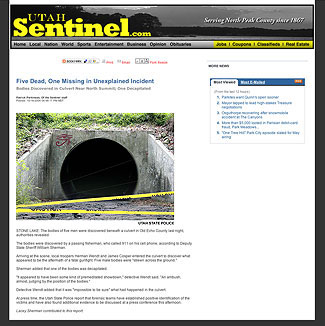 Back to top
PROOF NYPD IS LYING
Posted by Brian

April 18th 2010 | 1:26 AM

Okay, I CANNOT reveal how I got these images, but I now know for sure that THERE IS A FILE in the posession of the NYPD detailing other elements of Mateo's investigation that did not end up in the final report given to the papers. Something else happened that night and the NYPD are not telling what it was. The below three crime scene photos are leaked from that "nonexistent" file: more to come. Again, please do not ask me how I got these. Someone stuck their neck out for me, and I am not about to get them in trouble. Many, many thanks to my "source."


Back to top